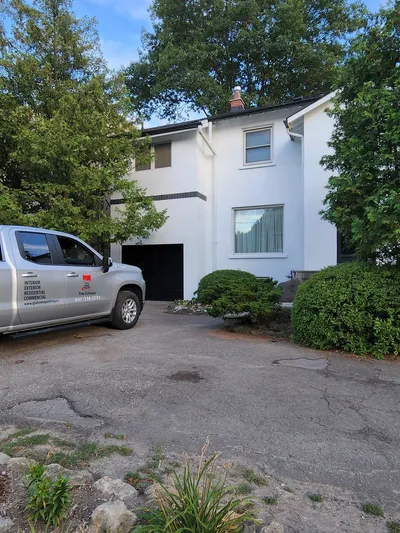 EXTERIOR STUCCO PAINTING 
 We can paint over already painted stucco and it is usually easier than painting over a non painted stucco finish. You do not need primer, in most cases either and the paint will usually last for quite a while before needing another coat.  
CONTACT US TODAY FOR A FREE CONSULT AND ESTIMATE!
WHAT IT TAKES TO REPAINT YOUR HOME'S EXTERIOR
 Prep For Repainting!
There are some advantages to repainting an already painted stucco finish but the prep work is usually the same. Pressure washing the stucco first is the best kind of prep work you can do and will increase the chances of the new paint sticking to the old paint.Pressure Washing: There is no real "magic number" when it comes to psi but you want to remove staining and have enough force to clean out the rougher areas of the stucco texture, if you have a rougher texture. If the stucco looks cleaner after pressure washing, then chances are you are using enough pressure.If you are taking off existing paint, then you might have to be more thorough when pressure washing, making sure to get the majority of the loose paint off or reduce the amount of psi, increase the distance your nozzle is from the wall, choose a less aggressive tip or a combination of the three.Crack Repair: Performing crack repair after you pressure wash can make a huge difference in the overall look of the repainted stucco walls. This is usually pretty simple to do, using caulking to seal the cracks and blend them in before you paint.Patches: If you have any patches to address on your stucco, then you should do it before repainting the stucco, as it will save time and money in the long run. A primer is recommended on fresh stucco repairs and usually a masonry primer is best suited for the job, due to the initial (higher) ph levels of the cement 
LET'S TALK ABOUT YOUR STUCCO PAINTING
There's a reason people all over GTA, York Region keep working with GTA Home Painting. If you're ready to join the ranks of our extremely satisfied clients, call us at 647.334.1234 or contact us online. We'll be happy to give you a FREE ESTIMATE and provide a timeline for the entire project.