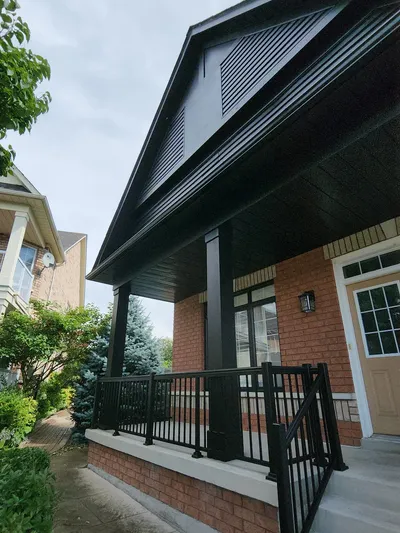 SEE OUR EXTERIOR PAINTING PORTFOLIO 
IMPROVE YOUR HOME'S APPEARANCE (AND MAYBE ITS LIFESPAN) WITH GTA HOME PAINTING PAINTING
At Gta Home Painting, we specialize in helping homeowners in Great Toronto, York Region Area revitalize tired-looking houses. In addition to making your home's exterior look better, the right paint can actually protect it from the elements and make it last longer.
WHAT IT TAKES TO REPAINT YOUR HOME'S EXTERIOR
Our Gta exterior painting experts know how to do things the right way from start to finish. We'll begin by ensuring the entire surface is clean; dirt and debris can ruin a paint job before the first brush touches down. Even if you can't see it, mildew often grows on exterior paint – and we make sure to remove it so that your new paint will look its best.
From there, we'll remove any peeling, bubbled or blistered paint without damaging the wood or siding beneath. Our exterior painting professionals are always mindful about preserving the surfaces, so you never have to worry about scrapes, scratches or damages to the permanent parts of your home.
Like with interior painting, sanding and applying primer (and then sanding again) are almost always necessary. We create an extremely smooth surface – that's the best way to get a long-lasting, great-looking coat of paint. We're always careful not to damage your landscaping or drip paint on your plants. We clean up our job site every day because we know you still have to live there throughout the project.
LET'S TALK ABOUT YOUR EXTERIOR PAINTING PROJECT
There's a reason people all over GTA, York Region, Maple, Richmond Hill keep working with Gta Home Painting. If you're ready to join the ranks of our extremely satisfied clients, call us at 647.334.1234 or contact us online. We'll be happy to give you a FREE ESTIMATE and provide a timeline for the entire project.